Benchmarks of Success for the Workforce System - Workforce Innovation and Opportunity Act (WIOA)

What are the Benchmarks of Success?
Placing people before performance means that Maryland's workforce system is dedicated to focusing its efforts on those who need our assistance the most and improving the lives of Marylanders.
Defined
Benchmarks of Success is a leadership tool that reflects a shared vision of excellence among the State's workforce system partners – five strategic goals are organized around an overall vision to increase the earning capacity of Marylanders…
By maximizing access to employment,
By maximizing access to and use of skills and credentialing
By maximizing access to and use of life management skills,
By eliminating barriers to employment through the use of supportive services, and
By strengthening and enhancing the effectiveness and efficiency of the workforce system.
What does all of this mean…
…for jobseekers?
Receive help with immediate job placement and/or supportive services to help a jobseeker become gainfully employed
Meet people where they are – no wrong door
Guide jobseekers on a career path to find employment and fulfill career goals
…for workforce staff?
View the customer with a holistic, broader perspective
Create a collective impact and collaborate on putting Marylanders back to work
Serve customers better when working as an integrated system
Help everyone find employment/careers to achieve self-sufficiency
…for employers?
Provide better understanding and awareness of system resources, services and benefits
Deliver people ready to meet employers' needs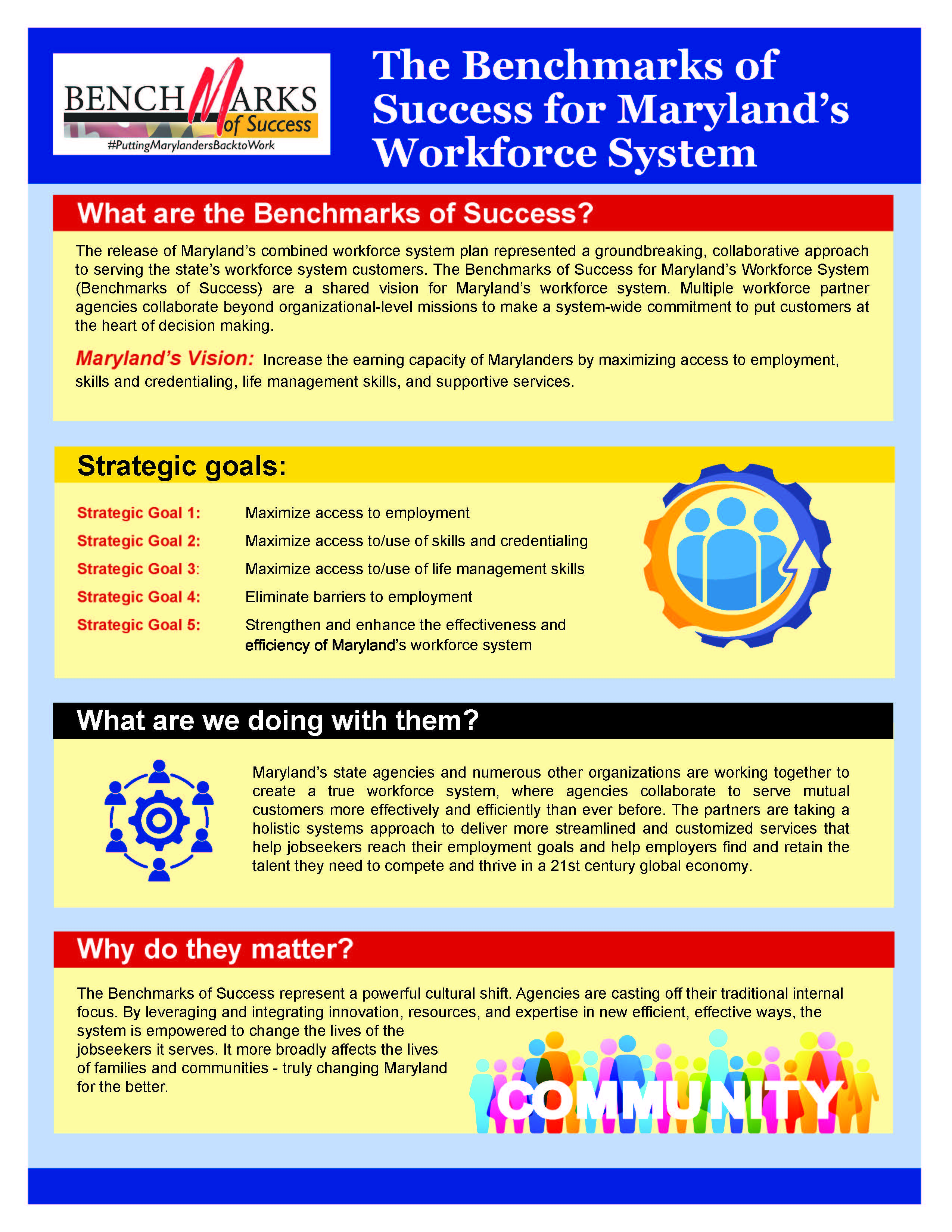 Committees
Benchmarks of Success for Maryland's Workforce System flyer
Benchmarks of Success for Maryland's Workforce System poster
Benchmarks of Success for Maryland's Workforce System rackcard
Subscribe to receive WIOA Updates via GovDelivery - stay current on Maryland's implementation
Stay tuned on this webpage for additional information in the coming weeks and months as implementation of this important initiative takes shape.