An Employment Benefits Guide for the Worker in Transition - Workforce Development & Adult Learning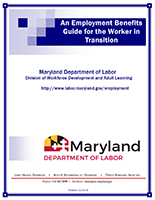 Overview
Any individual who loses his/her job or has received notice that he/she will lose his/her job as part of a facility closure or layoff is considered to be a "dislocated worker." Title I of the Federal Workforce Investment Act (WIA) extends a wide range of services to dislocated workers.
In Maryland, there is an extensive network of service providers in place to assist the dislocated worker during his or her transition. Maryland's Dislocation Services Unit works closely with this network that includes American Job Centers operated through a partnership of the Division of Workforce Development and Adult Learning in the Maryland Department of Labor with local Workforce Investment Boards (WIB) in Maryland's twelve (12) Workforce Investment Areas (WIA).
The WIA Dislocated Worker legislation recommends early intervention on behalf of the worker. In an ideal situation, service provision is initiated before the employee's last day of work. Orientation sessions are held on-site to inform workers of the range of services as well as where, when, and how to access those services, often relying on the Unemployment Insurance system for financial support while receiving program services.
This booklet has been prepared in an attempt to briefly discuss these services and the agencies that provide them.
Continuing Your Health Benefits Coverage
May I continue my health benefits?
The Consolidated Omnibus Budget Reconciliation Act (COBRA) gives workers and their families who lose their health benefits the right to choose to continue group health benefits provided by their group health plan for limited periods of time under certain circumstances such as voluntary or involuntary job loss, reduction in the hours worked, transition between jobs, death, divorce, and other life events. Qualified individuals may be required to pay the entire premium for coverage up to 102 percent of the cost to the plan.
COBRA generally requires that group health plans sponsored by employers with 20 or more employees in the prior year offer employees and their families the opportunity for a temporary extension of health coverage (called continuation coverage) in certain instances where coverage under the plan would otherwise end.
COBRA outlines how employees and family members may elect continuation coverage. It also requires employers and plans to provide notice.
For more general information, visit the U.S. Department of Labor web page.
Job Search Assistance
What other kinds of job search assistance are available to me?
You may be asking yourself a variety of questions . . .
WHO is going to hire me?
WHAT do I need to know to properly approach a job interview?
WHERE can I develop other job skills that fit the needs of employers?
WHEN can I utilize services that might be available?
HOW do I prepare a résumé?
The answers to these questions are available from the Maryland Department of Labor American Job Centers operated in partnership with your local Workforce Investment Board. The American Job Centers offer a variety of resources that will assist job seekers in their search for gainful employment. They provide job seekers with virtually unlimited resources of employment opportunities through their network of One Stop Career Centers across the state. Each of the Maryland's American Job Centers offers the Maryland Workforce Exchange, a web-based program that lets you manage your own career account using individual on-line folders and links you to job search resources and partner agencies that can assist you in your job search. In addition to the job search function, the Maryland Workforce Exchange offers several links to other job sites: state sites, employer sites and private agencies.
Maryland's American Job Centers
For job seekers, the Maryland's American Job Centers are nationally recognized leaders for using state-of-the-art technologies to match people with jobs and jobs with people. American Job Centers have resource areas equipped with Internet access and a variety of job search resource materials. To further assist you in your job search, they offer free faxing, copying, and telephone services. A staff of experienced workforce professionals is available to assist you. Auxiliary aids and services are available upon request to individuals with disabilities.
The Maryland's American Job Centers partner with other State agencies, local service areas, businesses, community colleges, and local governments to make employment information and opportunities a "One-Stop" effort. Automated services can be accessed on the Maryland Workforce Exchange, available at the Maryland's American Job Centers or via the Internet at the Maryland Workforce Exchange.
The following services to meet your employment needs are provided at no cost to you:
Access the largest single source of computerized listings of public and private job openings in Maryland and throughout the country.
Use Maryland's largest résumé job-matching database.
Register and search for jobs of interest in your local area or across the nation.
Look for a job; post, update, and maintain your résumé on the Internet.
Explore information about training and educational opportunities or information about apprenticeships and financial aid programs.
Access Federal, State and County listings.
Computer workstations with word processing and résumé software to prepare résumés and cover letters.
Job referral and placement services.
A variety of job search workshops that include:

Successful Job Search Strategies;
Interviewing Skills;
Résumé Preparation.

Labor Market Information: reliable and up-to-date information on job qualifications, occupation trends, wages and industry projects
Find a complete listing of Maryland's American Job Centers and contact information for the Centers.
Dislocated Worker Contacts Outside of Maryland
Workers displaced from work with a Maryland employer qualify for services in Maryland. In addition, should they reside outside Maryland, they may qualify for similar services in their state of residence. The following offices may be contacted for additional information:
Additional Information