Worker Classification Protection - Division of Labor and Industry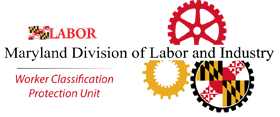 Most workers can be classified in two general groups: employees and independent contractors. Misclassification occurs when an employer incorrectly classifies its workers as independent contractors. Some employers who have misclassified workers honestly believe that they have classified their workers correctly as independent contractors due to lack of legal knowledge or misunderstanding the law. Other employers intentionally misclassify their workers for a variety of reasons. The most common reason is to reduce the costs of doing business. Employers who misclassify their employees reduce their costs by not paying unemployment insurance taxes and other payroll taxes, as well as Workers' Compensation Insurance premiums. Workers who are misclassified are also denied benefits that employers typically provide to employees such as paid sick or vacation days, health insurance, and retirement benefits.

Although misclassification exists in every industry and every occupation, Maryland's Workplace Fraud Act focuses on the construction and landscaping industries. If you think that the person or business for which you work is misclassifying you, or if you are a business that is unsure how to properly classify your workers, help is available to you.
Protección de clasificación del trabajador
La mayoría de los trabajadores se pueden clasificar en dos grupos generales: empleados y contratistas independientes. La clasificación errónea ocurre cuando un empleador clasifica de forma incorrecta a sus trabajadores como contratistas independientes. Algunos empleadores que han clasificado erróneamente a sus trabajadores honestamente creen que los han clasificado de forma correcta como contratistas independientes, debido a la falta de conocimiento legal o de mala interpretación de la ley. Otros empleadores han clasificado de forma incorrecta a sus empleados de forma intencional por una variedad de razones. La razón más común es para reducir los costos de hacer negocios. Los empleadores que clasifican mal a sus empleados reducen sus costos al no pagar impuestos del seguro de desempleo y otros impuestos sobre nómina, así cómo las primas de Seguro de Compensación a Empleados. A los trabajadores que fueron mal clasificados también se les niegan beneficios que los empleadores normalmente proveen a sus empleados, tales cómo días de enfermedad pagados o días de vacaciones, seguro de salud y beneficios de jubilación.

Aunque la clasificación errónea de empleados existe en todas las industrias y en todas las ocupaciones, la Ley de Fraude en el Lugar de Trabajo de Maryland se enfoca en las industrias de la construcción y jardinería. Si usted piensa que la persona o negocio para la que usted trabaja lo está clasificando de forma incorrecta, o si tiene un negocio y no está seguro de cómo clasificar a sus trabajadores de forma apropiada, hay ayuda disponible para usted.
Worker Classification Protection
---
For additional information, contact:
Division of Labor and Industry
Worker Classification Protection Unit
10946 Golden West Drive, Ste. 160
Hunt valley, MD 21031
410-767-9885
e-mail: dldliwcpu-labor@maryland.gov